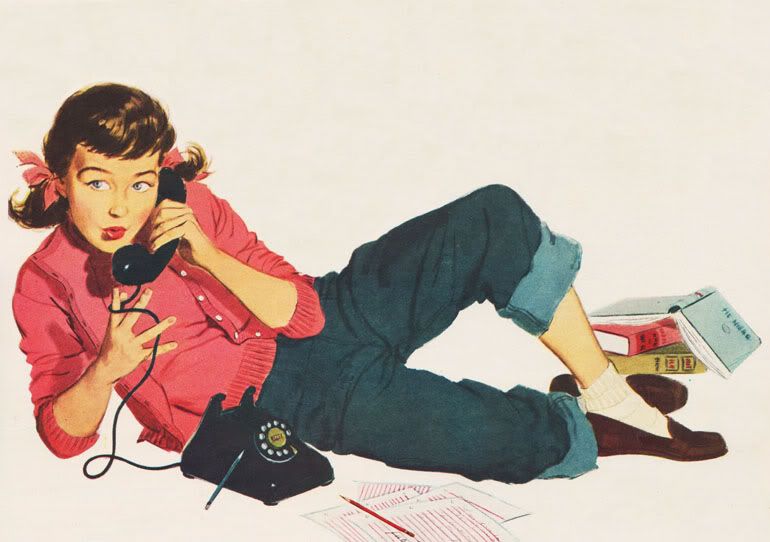 when my phone began buzzing last night, the word "dad" flashing across the screen, it occurred to me that i hadn't called home in a very long time—again. for this latest lapse in communication, i was about to be the recipient of a well-deserved, expertly executed, and most importantly, unavoidable guilt trip. cringing inwardly, i braced myself and picked up.
after leading off with some terse cordiality, my father launched into the old routine, reminding me that i really ought to remedy my chronic daughterly negligence before i regret it—that is, while he's still alive and well. there was a time when these ominous asides felt gratuitous, but my parents' recent health issues have made their mortality seem frighteningly tangible. i noticed that my pangs of remorse felt unusually acute.
on the other end of the line, my father was working his way towards the knife-twisting crux of his lecture: "you would never treat your friends this way. you have all the time in the world for everyone else, but you could care less about your own flesh and blood."
i saw it coming but was caught off guard anyway, a wave of shame and exasperation washing over me before i had time to put up a shield of indignation. i do often lose contact with loved ones for weeks or months at a time when i'm overwhelmed with work, but my parents' insistence that my radio silence is selective, some kind of tacit proclamation that i favor friends over family, is a misconception that sends my guilt into overdrive every time it's hurled in my direction. no matter how many times i present my side of the story, i can't seem to convince them otherwise, especially when it comes to my father, a stern man with an authoritarian streak who's never taken kindly to being told he's wrong about anything. i've grown used to checking my objections at the door and just waiting for the diatribe to end.
this time, the words tumbled out before i could acknowledge any intention of uttering them. "that's not true," i heard myself say. "i should be more attentive and i'm truly sorry for that, but please don't tell me that i'm socializing or making time for friends at your expense when i'm incredibly isolated and buried in work. that's not fair, and i wish you wouldn't assume the worst of me."
a pause. oh god, i thought, incredulous at my spontaneous display of pluck. that's not going to go over well. i waited for what was sure to be a sputtering, aggravated smackdown of a rebuttal.
"that's because i'm hurt," he replied.
growing up, my father was hardly one to let on that he even had emotions, let alone any specific ones he happened to be experiencing at any given moment. unsure how to respond to this rare event, i mumbled a stunned apology.
"tell me about work," he offered, without missing a beat. i did, and before long, we'd slipped into a conversational ebb and flow reserved for peers, abandoning the staccato filial dialogue we'd cultivated over the past twenty-three years. all told, it lasted only a few minutes—he soon reverted to lecture mode, this time delivering a tirade against my poor eating habits—but the experience was something of a revelation nonetheless, a glimpse of what it might be like to relate to my father as a friend. i think i'm looking forward to our next chat.