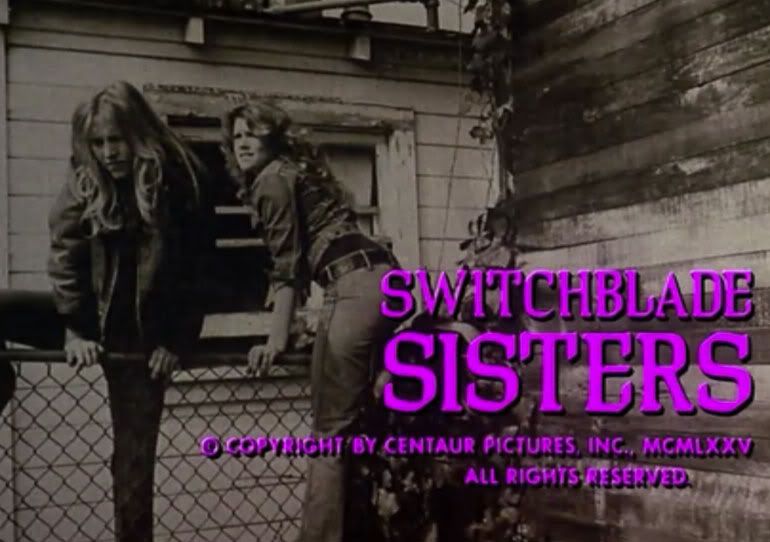 when it comes to movies, i'm a big fan of keeping expectations as low as possible. there's something especially unsatisfying about heading into one of those movies that's been graced with rave reviews, endless publicity, and rabid audience approval, only to emerge completely underwhelmed.
the tree of life
comes to mind.
of course, when your expectations are permanently grounded, b-movies can sometimes look like motion picture masterpieces. i know this because i've developed a serious thing for bad movies over the years. i'm talking everything from sleazy, poorly-acted grindhouse fare to schlocky sob stories of the lifetime network variety. you know the stuff that's left over on netflix instant after all the titles with any name recognition whatsoever have been watched? i consider that my personal goldmine. i don't know anyone who shares my passion for box office flops, so it's more of a solo hobby, but i still take it pretty seriously. after all, there are so many bad movies out there—simply bad, without the right amount of levity or camp to render them enjoyable—that i have to choose wisely.
as a general rule, movies about girl gangs will always be amazing, so i knew i was going to love
switchblade sisters
before it even started. packed with gritty photos of graffitied buildings and sullen-looking teenage girls in tight jeans, a chorus of seventies-sounding horns, and a throaty chanteuse singing a little ditty about a "black-hearted woman," the opening credits do a good, if heavy-handed job of setting the scene. then a young molly ringwald lookalike appears onscreen, sharpening a switchblade, applying some perfume, throwing said perfume at a rat, calling the rat a bitch, and then preening in the mirror. i think this is supposed to be a bit of silent commentary on her conflicted femininity.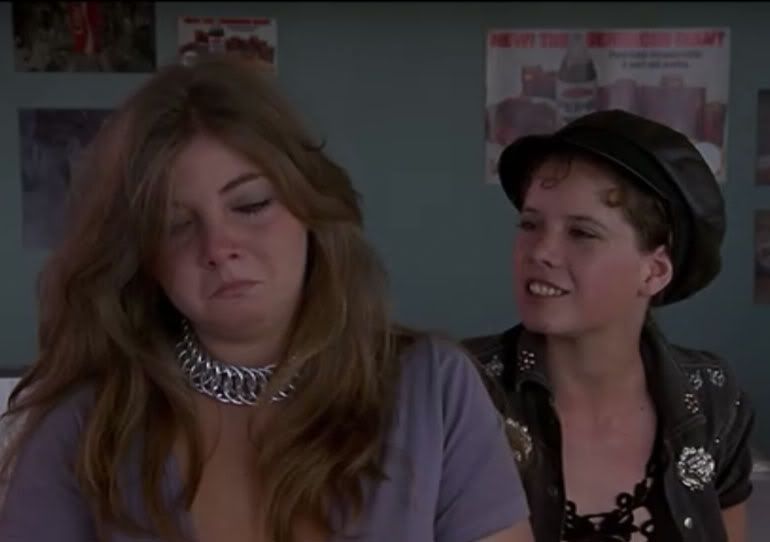 our fragrance-flinging protagonist is lace, the leader of the dagger debs and "one hell of a fox," according to her boyfriend, dominic, the leader of the silver daggers. despite the fact that lace is absolutely adorable and about as intimidating as a bratty tween, she runs the debs with an iron fist. take poor donut here. when lace tells the gang that she'll be buying lunch for everyone with some recently stolen cash, donut asks for a double cheeseburger with coleslaw and fries. "i'm really hungry," she explains. lace is so offended by this brazen display of food-fueled impudence that she twists donut's arm behind her back and forces her to squeal like a pig in front of all the daggers. then she decides that donut isn't getting any food at all. way harsh, lace.
apparently, the daggers don't eat meals in the presence of non-daggers, so before lace can treat the gang, they've gotta clear the joint. that's when they meet maggie, the new girl in town. maggie is strangely unfazed by the daggers' threats, so patch, sissy spacek doppelganger and lace's one-eyed deputy, pulls a knife on her to make a point. maggie goes straight warrior woman on patch's ass, tossing pepper into her good eye and using her sick chain belt as a whip to take her down and snatch the weapon away. patch is ready to "kill that bitch," but lace is impressed by mag's belt prowess and casually invites her to join the debs. maggie isn't having it, but when the cops show up, she hardly looks innocent and all the girls get hauled off to juvie.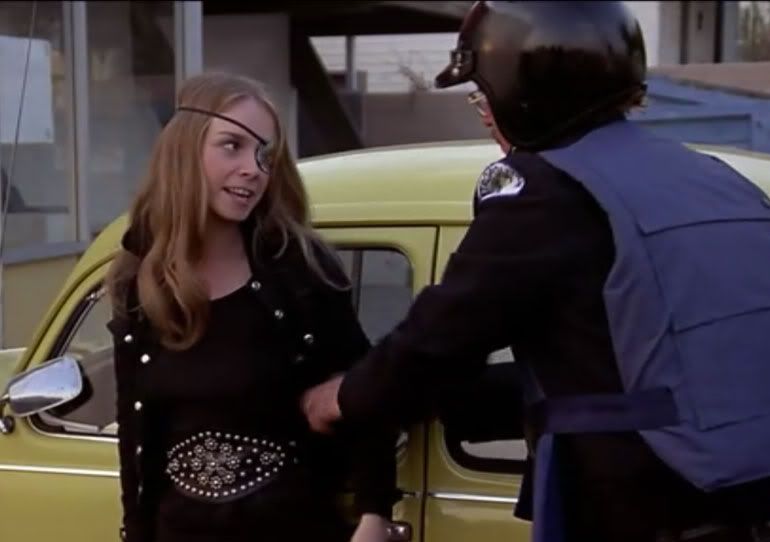 let's take a minute to talk about patch. patch is fucking amazing. while all the other debs are shuffling back and forth and taking orders, patch is sarcastic, calculating, and always one step away from flying into a seething rage. here, she's being searched for weapons and the script calls for her to scream, "get your hands off the fruit, faggot!" like most of the ridiculous lines in this movie, it could have landed squarely in the realm of comedy, but you can almost see her anger bubbling to the surface as she's patted down against her will and when she delivers it, it's fantastic. she also has the ultimate center-parted seventies hair, which she manages to pull off while wearing a molded silver butterfly eyepatch and what appears to be a studded leather championship belt. TEAM PATCH.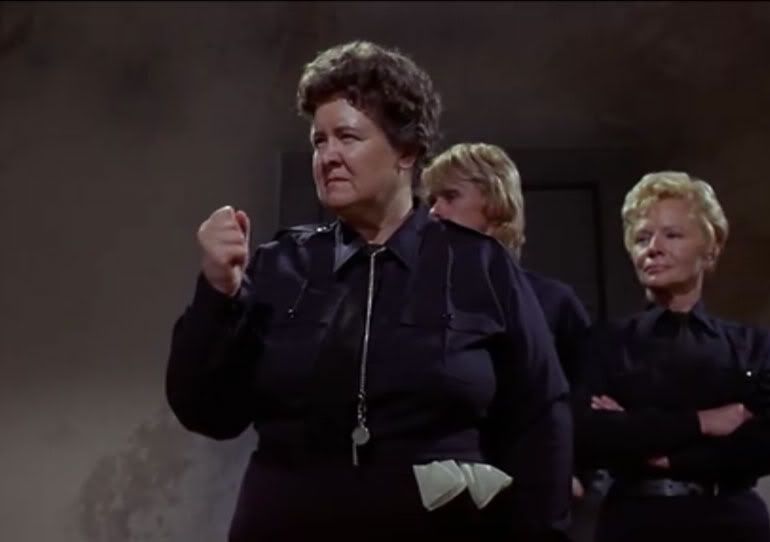 back at juvenile hall, the girls are left in the care of mom smackley, a grabby lesbian warden whose eyes bug out, cartoon wolf-style, when she sees maggie. since she's not a deb, mom wastes no time molesting her in full sight of all the other girls. maggie fights back, and mom is all, "fulla ginger, aren't ya? i know how to cool off hot little chippies like you. take her to the john." at this point, maggie's pretty much doomed to some forced fingering until lace sends in the debs to rescue her. after a bunch of plungers and garbage cans to the face, mom and her lackeys are sufficiently subdued. maggie gets out of juvie before lace, so she asks the new girl to deliver a letter to dominic. "i'd kill for that guy," she says, apropos of nothing. "you know what i mean?" sure, lace.
at the dagger hangout, one of the guys is telling dom that they've "gotta do something about crabs," which sounds like a great plot twist, but alas, crabs is the leader of a rival gang. carry on. maggie tries to deliver lace's letter privately, but she's dealing with high school boys, so they generally behave like dicks and force dom to read the letter out loud. "my darling nicky," he begins, and i wonder if prince is a
switchblade sisters
fan, too. the letter is hella sappy and the guys are getting a huge kick out of it until maggie gets fed up and slaps dom across the face. he refrains from hitting her, but later surprises her at home and rapes her in retaliation. "what are you so pissed about?" he asks afterwards. "you asked for it, didn't you?"
soon, everything is back to normal. the girls get out of juvie and head back to school, donut continues to be abused by pretty much everyone, and lace firmly reattaches herself to dominic's hip. in fact, the first thing she does upon seeing him is grab his junk and ask, "how's junior, huh? did he miss me?" maggie pretends as if nothing's wrong and agrees to officially join the debs. patch gets wind of what dom's been up to with maggie, but lace likes her too much to believe the rumors and refuses to seek revenge, ignoring patch's sage advice: "you got two dozen hungry females at your back, honey, and each one has a score to settle with you. you take a fall, and they're gonna spill your blood." suddenly, i understand why this is one of quentin tarantino's favorite movies.
as it turns out, the infamous crabs & company will soon be transferring to the daggers' school, which is sure to escalate their ongoing turf wars. in addition to wearing suspenders and a belt at the same time, crabs runs a teen charity organization that operates as a front for a drug ring. dom advises everybody to "be cool" and hope for the best, but they end up mouthing off anyway and the silky-shirted drug lord is not pleased. "let's waste him," crabs' right-hand man says, opening up a book that's been hollowed out to house a handgun. "you've got the subtlety of a mack truck," crabs says, and proceeds to run up on dom's brother guido after school in a bright yellow van, gunning him down before kidnapping and raping his girlfriend. crabs is a master of subtlety.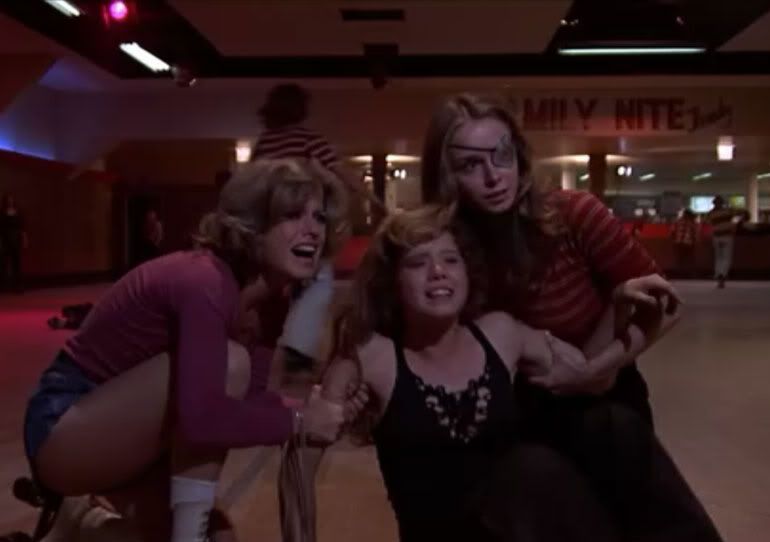 amazingly, no one gets arrested for any of this, so the daggers put their heads together to come up with their next move. maggie suggests they ambush their rivals with guns at a roller rink uptown that's considered neutral territory. it's risky, but since maggie knows the lay of the land, she earns herself a spot at a closed-door strategy meeting while lace is left to fume over her protégé's quick ascendance and constant proximity to dom. unfortunately, the plan goes awry when the crabs clan shows up feeling trigger- happy with some serious weaponry in tow. someone's tipped them off to the attack, the daggers are outnumbered, and dom and maggie end up seriously hurt.
with both their leaders and several members out of commission, hook, dom's second-in-command, wants to lay low for a while, but maggie stages the quickest coup of all time and manages to oust the daggers' entire male faction in a matter of minutes. patch watches from a distance, mocking maggie's attempts to run shit, but mag's got something else up her sleeve: "we ain't gonna be anybody's debs anymore. you girls know what a jezebel is? i found it the other day in the dictionary. it says, 'an immoral, shameless,
impudent
woman,' and from now on, that's gonna be us! the jezebels, yeah!" with that little name change out of the way, maggie takes donut and bunny to the other (read: black) side of town, where they're promptly stuck up by members of a militant maoist ladyrebel group. they take the intruders to their leader, muff (!), whom maggie seems to have a bit of history with. muff is thrilled that maggie and her girls kicked the men out of their gang, and invites them in to talk strategy.
the next bit of dialogue is so awesome that i really can't do it justice in any abridged format. here it is, in its entirety:
muff: we got kind of a political discussion group going. you know what i mean.
maggie: yeah.
toby: [pushes a book toward bunny] you know how to read?
bunny: [glances at the cover] oh, you're into some heavy stuff.
toby: political power grows out of the barrel of a gun, ya dig?
bunny: yeah, we dig.
toby: well, that's science, but they don't teach it in the schools.
muff: they will when we run 'em. [to maggie] this a sample of your sisters?
maggie: [nods] and they can fight. there' just ain't enough of us. now some people are leanin' on us pret-ty bad.
toby: mao says don't waste time on personal grudges.
muff: yeah. what's in it for us?
maggie: you need guns?
muff: we can always use more…
maggie: well, this guy's got an arsenal.
muff: and who might that be?
maggie: the one they call crabs.
muff and toby are down. they've got a personal grudge of their own against crabs, a "capitalist gangster" who "gets little kids hooked on the vitamin pills he's pushin' so he can lay some smack on 'em later." maggie warns muff that the attack won't be easy, but muff is prepared: "we got a surprise for old crab. a great, big, motherfuckin' surprise." this script is truly a national treasure.
by the time lace gets out of the hospital, she's officially sick and tired of maggie's little hbic routine, but she decides to play it cool until a proper opportunity to take maggie out presents itself. when she learns that the jezebels are planning to capture crabs in a hail of bullets, she realizes that she can shoot maggie and make it seem like an accident.
one of the best things about this movie is that every character's wardrobe is sort of like a cartoon character's. the plot unfolds over several weeks, but everyone wears pretty much the same outfit from start to finish with minor changes. it's a good way of signaling to the viewer that this story is fairly fantastical and should be interpreted as such. donut's look consists of a lavender deep v-neck tee, bellbottoms, and a chunky silver chain necklace, but when things get heavy and there's dirty work to be done, she swaps out the pastel for a striped black scoopneck tee. maggie has the most to work with, switching back and forth between a miniskirt and hot pants to go with her long-sleeve tee, denim jacket, and flat thigh-high boots. depending on what the occasion calls for, she might even throw a printed button-down or brown bellbottoms into the mix, although her trusty chain belt always remains.
on the day of operation: crab attack, though, the girls' really dress to impress.  donut's hair gets pulled up into two spiraling pigtails and piles on a bunch of extra necklaces—totally appropriate for a gunfight. muff emerges in full-on military gear, just about everyone gets a beanie, and lace pulls out all the stops with a serious choker and a pair of post-apocalyptic studded princess leia buns.
girl power prevails, and the ladies retreat to jez headquarters post-shootout to celebrate with cake and beer, but there are still some questions to be answered and it's not long before maggie and lace are at each other's throats—with switchblades, naturally.
[images: netflix]