growing up, every last tiff, spat, and falling-out that occurred between me and my brothers was an opportunity for my mother to reiterate that we should quit fighting and cherish each other instead. in retrospect, i'm not sure if she was just covering her bases or actually convinced that our idle bickering over the remote might someday lead to a permanent rift in our relationship. after scolding each of us, she'd often wrap up with some curious advice: "just because you see sibling rivalry on television doesn't mean you have to engage in it."
i bristled at the suggestion. if i'd decided to be a contentious brat to my brother, it was probably because he'd rubbed me the wrong way somehow, whether intentionally or by virtue of sustained proximity—not because i'd watched too many episodes of the wonder years. even at a young age, it seemed to me that bouts of conflict, boredom, and dissatisfaction were part and parcel of all long-term relationships: familial, platonic, and romantic. these days, i'm of the belief that, given enough time, these sentiments can actually come to be equally represented alongside affection, passion, and the ever-elusive happiness. irène némirovsky's dimanche and other stories feels like a literary testament to this theory. for her characters, marriage begets restlessness instead of safeguarding against it, filial piety is a chore to be completed with a heavy sigh and an eye roll, and there are no happy endings. even the fervor of young love is tempered with a laser-cut cynicism.
these heavy, borderline relentless doses of sobering reality are somewhat fitting for a collection of stories written in france between the years of 1934 and 1942 by a jewish author that ultimately met her demise at auschwitz. the war is a lingering presence throughout the stories, initially popping up as offhand dialogue and later functioning as a pivotal plot point, sending her characters scrambling onto ships and across the gallic countryside to save their lives.
despite the historical storm cloud hovering overhead, némirovsky's premises retain a certain familiarity. i detected shades of my adolescent self in the "diamondlike hardness" of nadine, an arrogant young woman who lies her way out of the house to cavort with friends and lovers in "dimanche," convinced that her put-upon mother's youth couldn't have ever resembled her own. "flesh and blood," a story revolving around four siblings as they stare down their mother's mortality and wrestle with their alliances to the family they were born into versus the ones they've created as adults, has the same hushed tones i recall from vigils kept for ailing grandparents. they're hardly uplifting narratives, but i don't mind a bitter pill when it's rendered beautifully.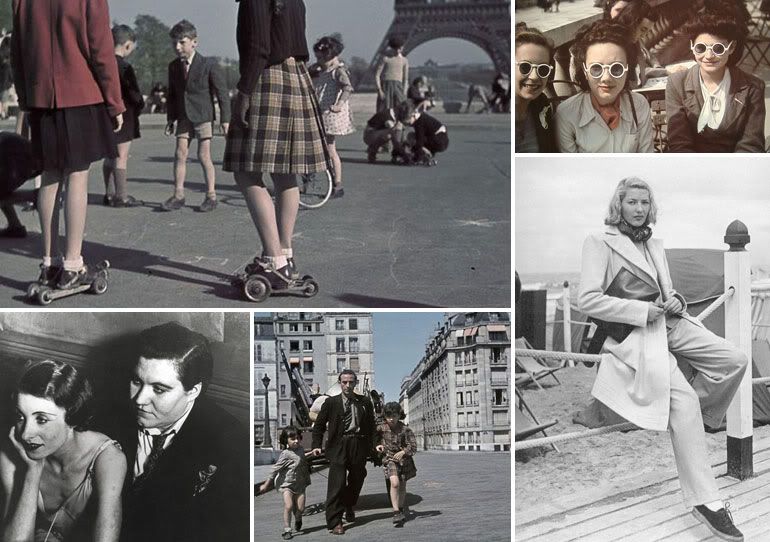 [by way of atget photography, the sartorialist, tfs, messy nessy chic, and xaxor]