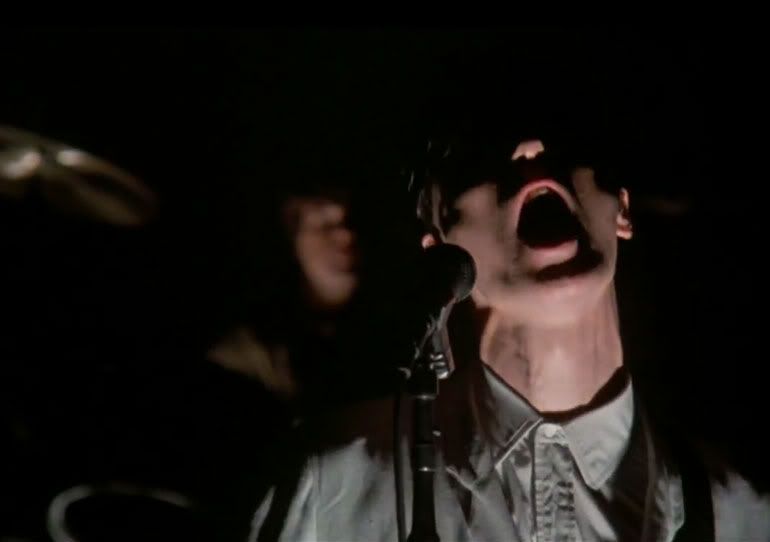 there are days when i scold myself for spending too much time on the computer. today is not one of those days, because my aimless browsing habit brought me to an excellent early '90s david byrne
interview
, conducted by none other than timothy leary, originally published in
mondo 2000
magazine. obviously the whole feature is worth a read, but i've pulled some of my favorite excerpts here.
leary: i mention you in every lecture i give, because you represent the twenty-first century concept of international global coming together through electronics. how did you get into that?
byrne: you mean working with different cultures? [...] it seems that post-world war II with television and movies and records being disseminated all over the globe, you have instant access to anything anywhere, almost. but you have it out of context, free-floating. and people in other parts of the world—india, south america, russia—they have access to whatever we're doing. and they can take what they need and leave the rest. they can play around with it, they can misinterpret it or reinterpret it. and we're free to do the same thing. it seems to be a part of the age we live in, that that's a unique thing about this period, that there is that kind of communication, even though it's not always direct communication with people in different places, it can lead to direct communication if you follow through.
—
leary: you said in your autobiographical note here that you're gradually emerging from racism. do you want to comment on that?
byrne: after years of telling myself i'm not a racist, i'm a liberal, i'm free-thinking, i started to acknowledge that i have these reactions that i'm not aware of, that i didn't look at before; things that have been bred into me, not necessarily by my parents—maybe by the society, by the system, by television—and that it's a real job to get rid of it. you can't just blissfully say everybody's equal, everybody's nice. the conditioning is so powerful that you have to work all the time.
leary: it's invisible; racism is the water through which we swim.
byrne: and you have to tread water to stay up there; otherwise you're in it. you have to go against the flow to rise above it. so it's acknowledging that in some ways i'm trying to deal with it, but it's not going to happen overnight. it's not something you can announce to yourself and all of a sudden you're clean and pure.
—
leary: basically, the average american household passively watches television forty or fifty hours a week. these talk shows and the primetime programs are more real to more Americans than the day-to-day, real-time flesh and blood.
byrne: maybe it's myself or my friends, but you sit in front of the tv and if you're not watching a video you've rented or something else, you're zapping it. and sometimes people keep their finger on the zap button, and it's like they're editing together a program that is comprised of everything that is on television at that particular moment. so there's an impulse to interaction. on a primitive level, people want to talk back in a way.
—
leary: barbara and i saw an imax version by julien temple of the rolling stones. it's really insanely powerful.
byrne: it's not frightening?
leary: it is in a sick way—seeing mick jagger's face enlarged.
byrne: i think it would be—seeing keith richard's face twenty stories tall and being able to inspect the damage of the years. i know that's not the point.